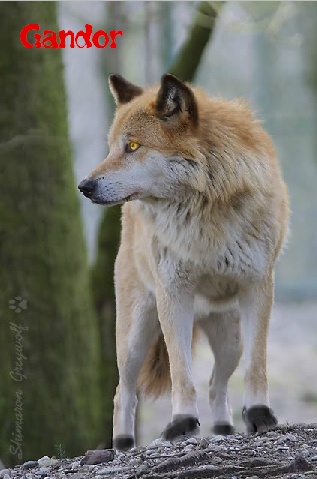 Name:
Gandor
Nickname:
Gan, Gand, Ganon. Feel free to suggest.
Age:
3 Years
Gender:
Brute / Male
Rank:
Hyena
Dream rank:
Cheetah
Eye Color:
Golden orange
Fur Color:
Mix of blondes, with black ears and paws.
Scars:
2 on his right ear and 3 larger scars on his legs.
Detailed Physical Description:
Gandor is larger than most males and quite tall. His build was made with powerful muscles to give him great strength. His legs are long and strong for running in a good speed. His jaw is powerful and his front teeth are for breaking bones and killing his prey.
Personality:
Gandor is a gentle male. He thinks about others before himself and very protective. He's kind and nice to wolves but very disobediant. He doesn't listen to orders and will ignore wolves if they get on his bad side. He has a short temper and doesn't like to be teaseed at all. Gandor doesn't understand jokes and hates to talk for a long time.
Family:
Unknown. His real parents were killed. He was brought up by a rival pack.

Mate/Pups:
Gandor had a mate, but the two always argued and so they left each other. He hasn't thought about having a new mate since.
Crush:
No one has got to his heart.
Habits:
When Gandor is trying to concentrate, he would usually flick his ears back and forth.
Strengths:
Gandor's main strength or talent is for battleing other wolves. He's been through fights most of his life and has not lost a fight since. He has killed many wolves in his time and will think about them sometimes.
Weaknesses:
Gandor's weak spot in his tail, because that is where most of his aponents would attack him. The bone in his tail is forever broken and will always bring pain if a tooth was to touch it.
History:
Gandor's parents were killed by a rival pack, and he was taken by the leaders of that pack and brought up to believe they were his real parents. Gandor was given the truth about his parents when he was a yearling. Gandor wanted revenge, he couldn't trust his so called parents. Gandor destroyed the pack at the age of two. He faught agaisnt everyone and killed each wolf as they slept. Untill only the leaders were left. Gandor killed them, but was given 5 scars in return.
Reference: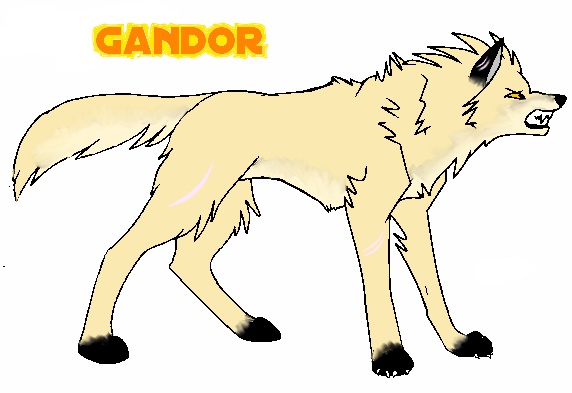 Posts

: 730


Join date

: 2011-08-08


Age

: 21



Nice bio! I love how Gandor appears ^^
Alpha




Posts

: 353


Join date

: 2011-08-07


Age

: 22


Location

: Under a Thron Tree,Watching My Pack




---
Permissions in this forum:
You
cannot
reply to topics in this forum